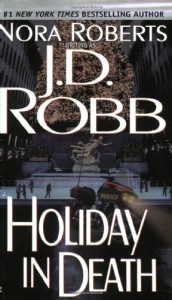 I think this is my favourite so far, purely for the way that Roarke looks after Eve all the way through this book. I like it when he uses her name instead of "lieutenant". Peabody had me laughing out loud at her reaction to McNab. McNab was actually the route of a lot of the best moments (such as when he unknowingly felt up Eve at her Christmas Party and Roarke strongarmed him away). It was just a really good read.
It was also the perfect time of year to read this.
Christmas is fast approaching and a series of bodies (male and female) are found, strangled, sexually assaulted, tied up with tinsel sporting a tattoo and decorated with a piece of jewellery that depicts one of the twelve days of Christmas. The perpetrator appears to be Santa, who appears on the victims doorstep with a large present to deliver.
The only link between the victims is a dating service that is run by the Hoffman twins (who are a bit too close for twins).
This case hits a bit too close to home for Dallas and she becomes consumed by it. There's only Roarke to try and get her to slow down and enjoy the holiday season. He's determined that they will enjoy it and start a few holiday traditions (like decorating their own Christmas tree). It was fun to watch Eve try to Christmas shop - as she's never really had good friends to shop for before (apart from Feeney). I want to know what she got Peabody though!!